イベント2つめは、第二回 Aquvii Art The Terminal
略して「AAT」2014です。
https://theterminal.jp/aat/aat.html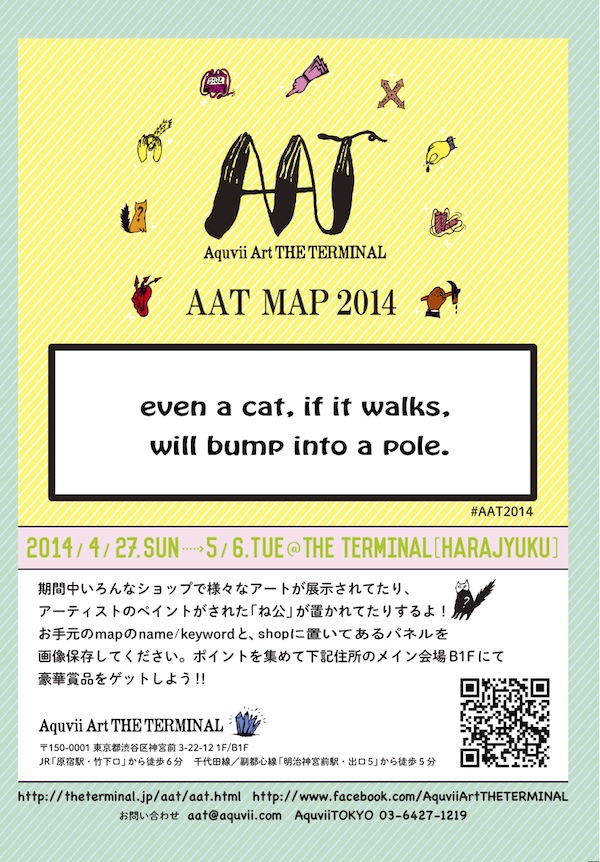 原宿とんちゃん通り(原宿通り)を中心にいろんなショップがアート作品を
展示・販売するイベント 「アートをもっと身近に」がテーマ
通りを入ってすぐのTHE TARMINALがメイン会場です。
今年のKINSELLAは「TETSUNORI TAWARAYA(俵谷哲典)」さんの作品を展示販売致します。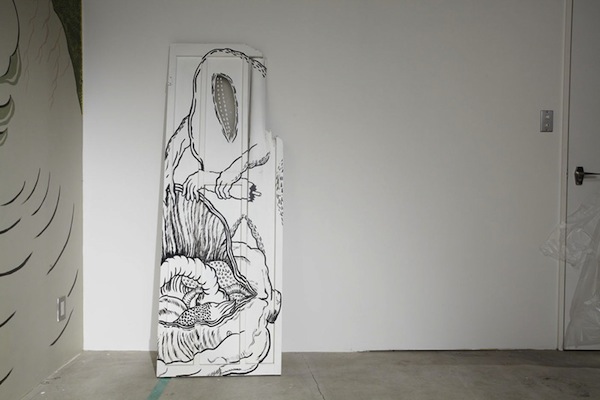 ショップのロゴやフライヤーデザインでもお世話になっているTETSUNORI氏
今回の展示はは大きめの迫力ある作品になる予定。。。楽しみです
その他Tシャツやバッグなどグッズもお求め頂けます。
でキンセラ地下の stand では、ネコ×アート×ファッションをテーマに様々な分野で
活躍されているアーティストさんにstand店内の真っ白な壁にイラストを描いてもらいます。
期間中日替わりで違うアーティストさんを招いて公開ライブペイント行います。
イベント期間は、4/27〜5/6  ぜひご来店下さい!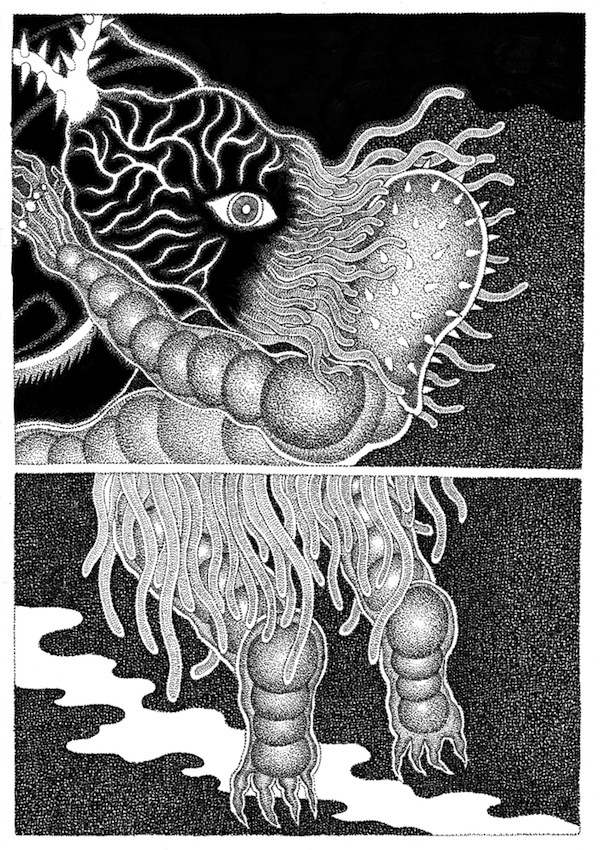 ABOUT
Tetsunori Tawaraya started drawing portraits of people and musicians in San Diego in 1999,
and accomplished 800 portraits until 2002.  He was enthusiastic about making flyer designs
for experimental/rock/noise bands in San Diego simultaneously.
Ashish Vyas from Gogogo Airheart was a key person to get him opportunity
to start out Silkscreen.  First silkscreen poster was made for Gogogo Airheart, Glass Candy,
and Convocation of, at Casbah in San Diego 2001.
Comic book project started in 2002, that featured hand-painted card board box
as the hard cover, with many other materials like furs, plastics, photos attached,
hand sewed spines.
His comic charactors had been created in the format of stuffed animal as a collabolation work
called "Donuts Machine" with Tomoko Tawaraya since 2006.
Serial comic contribution called "The Gate Of Dream" for the magazine "Sweet Dreams"
in Tokyo, Japan. And non-serial comic contributions for "L'Episode" in France,
and many others.
Currently working on "U.D.W.F.G." book project by Hollow Press.
It will be published in spring of 2014
Thanks for your interests.
-Tetsunori Tawaraya
2013.December
---
---
KINSELLA
3-27-13 JINGUMAE SHIBUYA-KU TOKYO JAPAN 150-0001
T&F 03-6447-4544
Open everyday 12:00-20:00
www.kinsellatokyo.com
kinsella@kinsellatokyo.com
---